Happy early Christmas everyone.
Before we dive into the Oregon offense and how it compares to Kansas State, perhaps a reminder of the kind of defense that got us here and what Oregon will be facing come January 3rd.

In case you've forgotten.


(Here's the one he did for the Championship Game. It's 10 minutes long. And awesome.)
------------------------------------------------------------------------------------------------------------
Oregon brings a lot of offensive firepower to the table. Ice is cold, water is wet, and fire is ... warm.
Let's look at their Top 3 and we'll start with the man who makes it happen: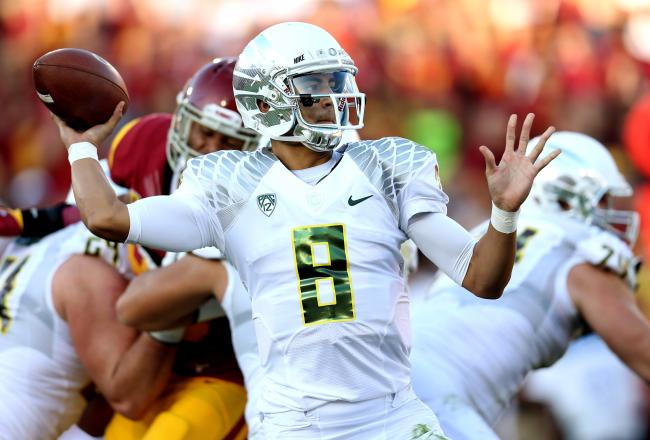 I . #8 MARCUS MARIOTA (QB)
He's 6'-4", can run a 4.5, and was a redshirt freshman in 2012.
After arriving in Eugene in 2011 as the #12 Rated QB overall from Rivals and #6 rated athlete from Hawaii, Mariota made a huge splash in the Oregon offense in 2012.
He threw only 6 interceptions all season, passed for 2511 yards on 312 attempts, had a 69.9% completion percentage, and had 8.05 yards/attempt. He threw for 30 TD's and had a 165.4 Passer Rating.
How does that compare to Klein? He had 40 more attempts ... but only 21 more yards. His completion percentage was 3 points higher, his yards per attempt ... 1 fewer. He doubled up Klein on TD's, threw one less pick, and had a Passer Rating that was slightly higher by 9 points.
Mariota had 98 carries and at 7.0 ypc, racked up 680 yards and 4 TD's.
Klein had 194 carries and at 4.6 ypc, racked up 890 yards and 22 TD's.
Mariota finished with 34 total TD's and 3191 total yards, Klein finished with 37 total TD's and 3380 total yards.
Very very comparable to Klein from a QB standpoint ... the main difference being Mariota throws for his TD's, Klein offers far more balance in both passing and rushing.
The Take Away: The Kid is really really good and not prone to making mistakes. Though Mariota is a freshman playing in his first BCS Bowl Game, he was on the roster against Wisconsin in last year's Rose Bowl.
USC packed the Coliseum with 93,607 fans, which is about 40,000 more fans than the Ducks' own Autzen Stadium can hold. While the Trojans kept the Ducks sweating through three quarters, it became increasingly clear that although USC was keeping the game close, USC also had no answer for the Ducks' offense.

Every time Mariota and his offense took the field, the noisy partisan crowd would eventually be silenced. Oregon didn't even attempt a punt until the fourth quarter. Under a lot of pressure and a lot of noise, Mariota didn't flinch. In fact, Mariota thrived, going 20-of-23 for 304 yards, four touchdowns and 96 yards on the ground for good measure.

Critics will argue that USC's porous defense was the reason for the Ducks' 730 total yards. But any team that produces those kinds of numbers on the road can have the last laugh, including the freshman quarterback who became a seasoned veteran after that masterful performance.

Mariota's coming of age isn't complete. But if we go down the checklist of what constitutes being tested, Mariota passes most of the milestones.
------------------------------------------------------------------------------------------------------------
II . #24 KENJON BARNER (RB)
He's 5'-11", 195 lbs., and just named First Team All-American. And he runs a 4.39.
He was also named the CBSSports
Pac-12 Offensive Player of the Year
and was 9th in the Heisman race.
Barner is the first Oregon Duck since 1965 who has scored touchdowns rushing, receiving, and from punt and kickoff returns. He set a Ducks team record for kickoff return yardage in 2009.
In November 2012, Barner set a rushing record for Oregon and for USC Trojans football opponents, with 321 rushing yards; he also scored five touchdowns in the game, which is believed to significantly improve his chances to win the Heisman Trophy.
As of November 11, 2012, the ESPN experts poll ranks Barner as the #2 Heisman candidate, behind Kansas State quarterback Collin Klein.
Here's Gus Johnson calling his 5-TD game vs. USC earlier this year. Not sure if it's the bad angles by the USC defense or what, but he appears to be in #beastmode against the Trojans.
He finished the year with 248 carries, 150 more than Mariota and 158 more than Thomas. For the season, he totaled 1624 yards, (6.5 ypc), and 21 rushing TD's.
This was a considerable workload in comparison to KSU's backfield -- Barner's rushing yards were comparable to Klein and Hubert ... combined. As you can see from Oregon's totals, they ran the ball 151 more times than KSU. They racked up 1500 more yards, achieved a little over 1 yards more a carry, and finished the year with 6 more rushing TD's.
The Take Away: Barner is the main cog in the Oregon machine. He's big, fast, and has incredible vision. Slowing him will be Arthur Brown's first, and only, priority.
------------------------------------------------------------------------------------------------------------
III . #6 DE'ANTHONY THOMAS (RB)
Rated a 5-star out of HS, he was rated as the #1 Athlete by rivals in 2011.
Thomas had a standout 2011 season as a true freshman for Oregon. He amassed a staggering 2,235 all-purpose yards, while his season haul of 18 touchdowns set the school record for number of touchdowns by a true freshman.
On January 2, 2012, Thomas turned in a stellar two touchdown, 314 all-purpose yard performance in the Rose Bowl that helped propel Oregon to a 45-38 victory over Wisconsin.
In that game, his 91-yard touchdown run broke the previous Rose Bowl record for the longest run from scrimmage. His only other carry in that game resulted in a 64-yard score, giving him a 77.5 yard average for the day.
Interestingly, with all that speed, Thomas only had two 100 yard rushing games this season. Only two games in which he scored multiple TD's. He catches a lot of balls out of the backfield as well, going for over 100 yards receiving against Cal on 8 receptions. He averages 7.6 yards a carry.
ESPN puts the loss against Stanford squarely on Thomas' shoulders. In their Pac-12 North Division Christmas gifts, they give Oregon
A Block From #6
:
If Thomas had just turned around and gotten in Stanford safety Devon Carrington's way on Nov. 17, Ducks QB Marcus Mariota's 77-yard, first-quarter run would have turned into a 92-yard touchdown against the Cardinal.
And the Ducks might be getting ready to play Notre Dame for their first national title, a game in which they'd be significantly favored.
Would one play have made the difference? I was too focused on KSU losing to say for sure, but in a game that was decided by 3-points, perhaps it would of turned the tide for the Ducks.
The Take Away: Thomas is lighting in a bottle. KSU will have their hands full keeping Thomas from sneaking out of the backfield and getting chunks of yardage if the WR's are covered.
------------------------------------------------------------------------------------------------------------
Mariota had 17 different WR's to throw to this season, and other than TD machine Josh Huff, no particular WR stands out among the rest. This is a fleet footed group that does most of their damage downfield blocking for the three-headed monster in the Oregon backfield.
Collectively, this group caught 238 balls for 2722 yards (11.4 ypc) and 33 total TD's from Mariota. Mariota himself even caught a TD on his only catch of the season. Huff and Lyerla both went for 7 and 6 TD's respectively, two and three more than any KSU WR.
In comparison, KSU's 10 total WR's caught 186 balls for 2545 yards, (13.7 yard per catch average), and 15 TD's. Not surprisingly, KSU favored Harper, Lockett and Thompson. Each had more yards than the top 3 Oregon WR's.
The Take Away:
KSU will hope single coverage will be enough in order to devote their safeties to run support. Not having one or two elite WR's to try and take out of the game also poses a problem: they're all dangerous which creates equally difficult pressure on the KSU secondary to gameplan for.
The Bottom Line: This isn't rocket science. Slowing Barner and disrupting the timing of the Oregon offense and Mariota's delivery and playcalling is the name of the game. Knocking down balls at the line of scrimmage, controlling the running lanes, and creating a timely turnover or two will help keep the Duck offense off balance.
Like any other high powered offense KSU has faced this season, KSU best defense will be clock chewing, grind it out offense. Other than Baylor, KSU showed the ability to bend but not break against most teams in the BigXII, allowing offenses to put up large numbers without surrounding a lot of points by forcing FG's and turnovers at critical points in the game.
Clearly, no one in college football has the offense of Oregon's and few teams can win in a shootout, so the next six weeks it's likely Snyder and Co. will be devising ways to keep them off the field for as long as possible, dictating the clock, the pace, and the score.
Luckily for us, Oregon doesn't have the horses to slow Klein or the KSU offense.
But that's ... another story.
------------------------------------------------------------------------------------------------------------
Merry Christmas from Kansas State!
I finally changed the comments section so now anyone can leave a comment. You should try it sometime.